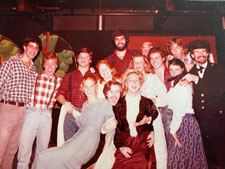 Musicals are what first drew me to writing, my main inspiration coming from my mom's album of Ella Fitzgerald sings Rodgers and Hart which I listened to constantly when I was a senior in high school. By that time I was playing piano pretty well. At Middlebury College, I wrote two musicals with a talented classmate named Paul Shoup. They were Paul Bunyan, a Musical Tall-Tale, a spoof of the great tall-tale hero and his men, and Twice Upon a Time, a Brigadoon-type story about a small town where nothing ever changed.
Since those days, I have written the music and lyrics for a handful of musicals for children, most often based on my own books: Just Desserts (based on The Worldwide Dessert Contest), The Great Squirrel Uprising (based on a book of the same name) and an original Christmas story, Miracle in Miami, where Santa Claus goes on his annual vacation and finds friendship with a 13 year old Jewish girl and her grandmother (Time Out review). All three shows were produced and performed in the 1990s and early 2000s in theaters ranging from the Mazur Playhouse in New York City to the LaGuna Playhouse in California. All three are available for further productions. Please contact me directly.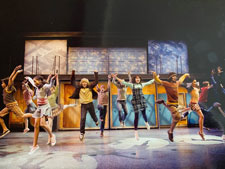 In 2002, I heard that Jason Robert Brown (the brilliant composer lyricist of The Last Five Years and Bridges of Madison County) was interested in writing a musical about "dancing teenagers." I thought he was joking but I sent him a copy of my YA novel Born Too Short anyway. The result was a collaboration on the musical 13 which premiered at the Mark Taper Forum in the winter of 2007 and received the Los Angeles Drama Critics Circle Award for best production. The show moved to Broadway, running for four months in the fall of 2008 at the Jacobs Theater. Since then, 13 has been performed all over the world and is going to be a feature film from Netflix.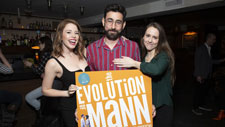 Back in the late 90s I wrote a novel called Nine Wives about a hopeless romantic named Henry Mann looking for love in New York City. Around 2009 I asked the brilliantly talented Douglas J. Cohen (The Gig, No Way to Treat a Lady) if he would be interested in turning the book into a musical. Since then, the show has been workshopped at Goodspeed and has had three productions (under three different titles!) culminating in its world premiere in the fall of 2018 at the Cell Theater in New York City. The Evolution of Mann is a funny, quirky romantic comedy for three actors and is now available for licensing from Concord Theatricals.