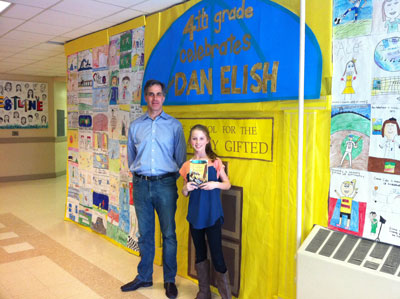 Since I started publishing, I have visited with literally hundreds of classes, from kindergarten through 8th grade.
What I Do
Generally, I start by telling the students how I began. Despite being an avid reader as a kid, I graduated college wanting to write musicals, but switched to books after re-reading childhood favorite, Charlie and Chocolate Factory. After that, I read from one of my own books and talk about the writing process. Years ago, I made a series of overhead projection slides out of the drafts of my first book, The Worldwide Dessert Contest, which allows me to show students in step by step detail how the ideas behind it evolved. (They can also see my horrible handwriting).
On recent visits, I have read the opening pages of the novel "13" (co-authored with Jason Robert Brown), then played a CD of the opening song from the musical, talking about how the show evolved and made it to Broadway while allowing students to see how the same story is told in different forms.
Other topics of interest include my writing for TV (notably Cyberchase, currently on PBS), the difference between writing for children, young adults, and grown-ups, and questions about the process of publishing a book.
Of course, students usually ask lots of questions and I'm happy to make myself available for signings.
If you're interested in having me visit your school, please get in touch. Reasonable rates!
Before meeting Mr. Elish, I had been a great fan of his books. Since that time, Dan has come to Collegiate and taught the boys about the writing process. His presentations are always thoughtful and well prepared. Although the format was usually a large lecture, he encouraged the boys to participate and ask questions. Dan made the writing process come alive by using examples of his own work and charmed his audience into thinking that writing and editing was the most enjoyable labor a boy could do. Before I met Dan, I admired his work as an author and composer and now I admire him as a fellow educator that has inspired young people through his writing and speaking. I recommend Dan to you without reservation.

Maggie Dixon, head librarian, Collegiate School, New York City.